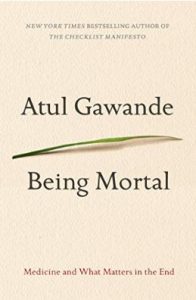 Recently attended a 14-week course based on the book Being Mortal. In it we examined in detail all aspects of end-of-life scenarios, including the right to choose the timing of one's own death.. It was a sobering look at how our health care system conspires to wrest from us the right to make independent choices for ourselves. In the U.S. we commit tremendous resources to extending life but pay comparatively little attention  to  planning and care that honors patients' end-of-life wishes. As a result, too many people suffer unnecessary treatments and end up spending their final moments in hospitals instead of at home. A rising chorus of experts and authors say this needs to change.
The Center for Health Journalism will host a webinar on
Thursday, Sept. 29

, at

10 a.m. PT

/

1 p.m. ET
that will give an overview of the problem, discuss how changes to our health care system could help, and offer insights on how journalists might spur more conversations on how we approach death in America.
The panel will feature Prof. Leonard Schaeffer, the Judge Robert Maclay Widney chair and professor at the University of Southern California. Previously, Schaeffer served as the founding chairman and CEO of WellPoint (now Anthem), one of the nation's largest health insurance companies. He'll be joined by Ann Neumann, author of "The Good Death: An Exploration of Dying in America" (2016) and a visiting scholar at The Center for Religion and Media at New York University.
For more information and to register, click
here
.