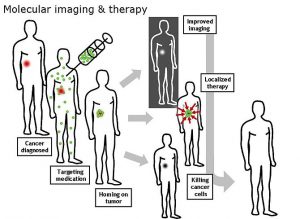 One of the biggest promises of nanomedicine is that doctors will be able to deliver needed medications directly to a site within your body without negatively affecting other tissues. That's still a moving target, though.
One of the most challenging obstacles is the density and opaqueness of human tissue such as blood vessel walls and organs. A recent study reported in ACS nano (American Chemical Society Nano) has revealed a way to more accurately track where nanoparticles go once inside the body by allowing visibility a little deeper into living tissue. A gel, injected into tissues removed from mice, linked all the molecules of the tissue together except for lipids – the substances responsible for making tissue opaque. Lipids washed easily away and "left the tissues clear but otherwise intact."
Lest you picture a big chunk of clear material, the actual depth to which researchers could image nanoparticles was only 1 millimeter, but that's 25 times deeper than with existing methods. The hope is that in addition to helping track nanoparticles, this approach will assist researchers with tissue engineering, implant and biosensor applications.
Slowly, we peel away one tiny layer at a time from the mysteries of nature.